David Hammond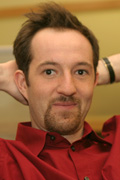 I study image processing, with a focus on developing good statistical models for signals. I am also interested in applications of image processing to a wide variety of scientific data. More recently, I have been working on wavelet transforms defined on graph structures.
I am currently an asssistant professor of mathematics at Oregon Tech - Wilsonville campus.
This page is under construction ...
I did my PhD in Mathematics at the Courant Institute of Mathematical Sciences at New York University. My thesis advisor was Eero Simoncelli.